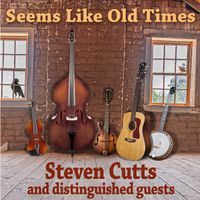 part of the "Seems Like Old Times" EP
                                     AND listen on

In 1817 the Viennese composer Franz Schubert waxed poetic about the power of song in his classic lied "An Die Musik."  This isn't a Franz & The Blue Danube Boys version of that song, but it is my toast to the value of music in our lives.  
© Steven E. Cutts, 2021 
recorded and edited by Jim Robeson, winter 2022 
Steve, guitar and vocal
Kimber Ludiker, fiddle 
Marcy Marxer, mandolin
After a difficult moment has passed and I'm needing some comfort and calm – 
after too many hours of darkness -- after tensions have stretched on too long – 
after danger has circled around and around in an ever tightening arc – 
it's you who rescues me, you who lightens my heart.                        
      You're that strong arm that embraces and lifts up my shoulders, 

      you who emerge from the background and stand by my side. 
Give me your rhythm; give me your rhyme to revive me and put me at ease 
 by rocking me softly and slowing my pulse by degrees.   
We know that there will be plenty more times when it's love that is needed the most --         
when our patience is tried – when the trusted have lied – when disaster comes frighteningly close.      
Or maybe it will be outrage that's called for to protest a terrible wrong. 
It's you who will bring what we need on the wings of a song.  
       Your rhythm and rhyme will embrace and will lift up our shoulders. 
       You will emerge from the background and stand by our sides. 
When we need reminding that even the fiercest storms finally come to an end, 
you'll be the key to restoring our balance again.