I have considered crows and written about wrens.  Now, here is a tribute to some of the most elegant denizens of my backyard.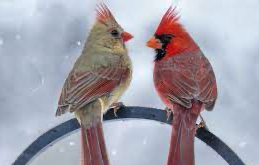 © Steven E. Cutts, 2023, a Studio C recording, June 2023 
The cardinal in the holly tree posing for me handsomely,  
His bold red chest against the green – he's pausing there to rest and preen.  
When all seems safe, he'll venture out to perch anew and look about, 
But for right now he's satisfied to sit among those leaves. 
Some say this lovely, brilliant bird's a messenger who brings us word 
From loved ones far beyond the veil to comfort and relieve.       
Perhaps his scarlet is a sign of powers that approach divine, 
Though that depends on what you might believe.
 
His ladylove must be nearby; they're rarely far apart and fly  
In tandem to find winter seed; food and love are all they need.  
There's not much 'round, but they're content to share their daily sustenance, 
One eating as the other stands on guard. 
She is dressed more modestly in grays and browns not vividly 
Like her more striking black-masked counterpart.                       
Come the spring with warmer weather; they will build a nest together: 
Parental love and romance from the heart.