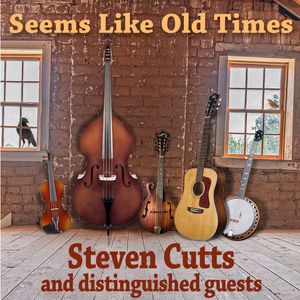 FIVE NEW RECORDINGS LINKED BY THEIR ROOTSY FLAVOR
graphic design: Paige Powell, ArtByPaige.com
interior space photo by Castorly Stock from Pexels
banjo photo by Chen Mizrach from Unsplash
When I think of old-timey music and its Celtic / African / Appalachian roots, I think of the signature acoustic instruments: the banjo, the mandolin, and the fiddle.  Since I can play none of those three, I was incredibly lucky to be joined for this project by outstanding musicians: Cathy Fink, Marcy Marxer, Kimber Ludiker, and Jim Robeson (on bass).  Each of these musicians has either been nominated for or has won a Grammy Award, and Kimber has been the Grand National Fiddle Champion not just once but twice.   In the recording studio, these players all had a basic road map -- a chart of the chords of the song -- but then THEY created the instrumental lines and solos that I trust you will enjoy.
In addition to playing bass, Jim recorded all of these songs and engineered the tracks with great patience and precision, and Cathy played a huge role in arranging two of the tracks.  
Many thanks to Derek Burkins for his suggestions and encouragement during the earliest stages of this project. 
Click on these links to navigate to each song in the collection to stream and/or to download :
This EP is available also on these streaming platforms: