an album of recordings -- released late-November 2019
Going Down The Road Feeling Glad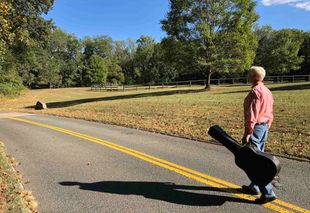 photo by Martha Cutts 
You can reach one of the eight songs either by clicking on a title below or through the drop-down menu under the collection's navigation button along the left.                                                                         
Let's Swing                                           Awkward Time In Life
October Is So In-Between             Countin' The Days Blues
The quality of these recordings would be painfully bland without the talent of seven terrific instrumentalists who agreed to join me in Jim Robeson's studio.  They followed my sometimes sketchy directions and improvised creatively from there.  I'm indebted to this who's who of Washington-area musicians: Jason Byrd, Ron Goad, Zan McLeod, Eric Selby, Bill Starks, Bruce Swaim, and Fred Travers.  I also had the pleasure of meeting and working with recording engineer Austin Atwood at Ocean Way studios in Nashville, Tennessee.
Three other indispensable friends allowed me to go down this road with a spring in my step.  Each of them was endlessly encouraging.  They acted as a three-judge panel, patiently listening through a big batch of demo recordings in order to render opinions on the most likely suspects to include in this project.  My wife Martha snapped the photo on that sunny afternoon.  (Note the magic in the blue of the sky!)  My long-time collaborator Rob Bartley composed the haunting piano part for "October Is So In-Between," caught on to what I was hoping for in "Awkward Time In Life," and hosted me during my pilgrimage to Music City.  And finally, I cannot begin to describe for you the extraordinary things Jim Robeson does with sound tracks to make already very good performances approach perfection; if I have counted correctly, Jim has now helped me record thirty-three songs since 2000.  
A huge shout-out to all eleven of these folks for their help!
                                                                                                                        STEVE